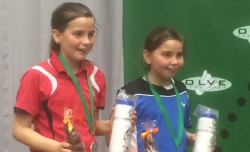 A fantastic result for Aimee & Lucie Whiteman in the Easter tournament in Olve. They were delighted with their Silver in the U11 doubles and Aimee added two more silvers to this in the singles and mixed.
Oliver Stansfield produced some sparkling moments reaching the semi-finals in the U13 singles where there was an entry of 64 top European players.
Gwent continues to punch above its weight.