Newport Badminton Club (formerly Lliswerry Badminton Club)  is a large club with approx 20+ members. We use 4 courts weekly at Bettws Leisure Centre (Newport Active Living centre). We are currently accepting new members.
Our club enters teams to play in the mens, ladies and mixed leagues and a team into the cup competition. We also host youth coaching on Thursdays at Pill Millenium Centre – see below.
Visitors and potential members are asked to contact Sylvia or Mark on first visit. potential members first visit is free. Otherwise visitor fees are £6 per session.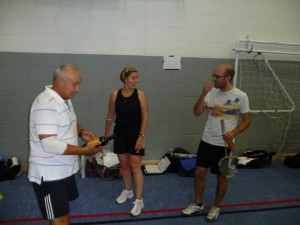 Newport Badminton Club is the only league standard badminton club within the city of Newport. We cater for club level players with an aim to play in the Gwent leagues. We try to keep a social atmosphere but work hard to do well in league matches.
Members pay £20 per month to cover court fees, shuttles and association fees. Club nights are generally kept for training and social badminton, while matches are on a separate night. Feather shuttles are supplied.
Our typical members are adults over the age of 16 who can play club level badminton.
Contact Us
To contact the club, please visit the contacts page and select Newport from the drop down list.
2017

 – Youth coaching (age 9-15)

In 2015 Newport Badminton Club launched a new Junior Club with Carissa Turner, the Welsh Badminton Ladies number one, as Head Coach. Following on from its successful launch we now have a new head coach in Rhys Pritchard (UKCC L2). Sessions are held at Pill Millenium Centre (see below) and are just £3.50 per week. The first session is free for those who wish to get a taste of the sport.
Sessions
Club night – Monday 19:30 – 21:30 ( Newport (Bettws) High School)
Match night – Thursday 20.00 – 22.00 (Pill Millenium Centre)
Youth – Thursday 19.00 – 20.30 (Pill Millenium Centre)
Venues
Club
Newport Badminton Club
Active Living Centre
Newport High School
Bettws
Newport
South Wales
NP20 7YB
Match and Youth
Pill Millenium Centre
Courtybella Terrace
Newport
South Wales
NP20 2GH
Blog posts