In May Newport badminton club's Men's A Team picked up the Division two winners shield. A near perfect season, unbeaten against tough opposition from Oakdale A, Ponthir B, Abergavenny B and Caerleon.
Next year is going to be a big year for us in Division one, a season in which we hope to retain our place in the division and hopefully progress further up the table.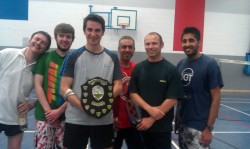 The team were unbeaten this season winning the division by 28 points.