Gwent's terrific junior badminton players delivered an incredible and unprecedented 15 national titles at the Welsh Junior National Badminton championships held recently at the Sports Centre for Wales in Cardiff.
In the premier tournament in Wales, the Gwent players played to the highest levels throughout the weekend, setting the standard.
Under 11's
The Under 11's kicked off the action with Gwent players dominating the tournament across the board. A sign of things to come as hot favourite Katie Whiteman swept through the girls singles in double quick time to take the title beating Rhea Hammadi of Cardiff 21-10 21-9 in the final. Meanwhile Gwent's Oliver Stansfield and Elliot Simmonds reached the semi finals of the U11 boys singles, where Simmonds narrowly lost to Jac Clarke of Carmarthen. Stansfield went on justify his top seeding by taking the singles title with a 21-12 21-11 scoreline over Clarke.
The U11 boys doubles saw cousins Stansfield and Simmonds dominate the event picking up another title for Gwent without dropping a game. Whiteman and partner Rhea Hemmadi of Cardiff cut a swathe through the opposition to land the U11 girls doubles title also without losing a game. Seven year old Aimee Whiteman made her national championship debut in the girls doubles and proved that she is definitely one to watch for the future.
No surprises in the mixed event where Whiteman and Stansfield confirmed their number 1 seeding to take their third title each of the day to complete a stunning opening session for the county squad. Three titles each being a marvellous achievement for both Whiteman and Stansfield.
Under 15's
Next up the U15's and Gwent showed another strong hand. In the boys singles Callum Simmonds, Josh Pearce, James Morris, Evan Williams, and James Ellaway contested the event and played with great heart pushing their opponents all the way. James Ellaway and Callum Simmonds showed some great form eventually going down to the winner and runner up respectively in the quarter finals.
In a very strong U15 boys doubles event James Ellaway and 12 year old Tom Whiteman both reached the semi finals, but despite strong play the final proved a bridge too far for both. Ellaway also reached the semi finals of the mixed with partner Emily Gwilt of Welshpool, but lost out after a strong performance in a tough age group.
Cometh the hour cometh Kelly Saunders and Morgan Williams, both still U13 and playing up an age range, contested the U15 girls events. Williams was up first in singles and played tremendously before losing out 21-19 in her final game against eventual finalist Emily Gwilt. Next up was Saunders. After a comfortable opening win Saunders found herself up against the no 1 seed Sophie Arrighi of Cardiff. In an absolute nailbiter Saunders came through 21-23, 21-11, 22-20 to reach the final. Another top notch performance followed in a very tense and exciting match where Saunders kept her nerve to clinch the title by a 21-18, 19-21, 21-16 scoreline. A fantastic achievement for Saunders.
Onto the girls doubles, the established Gwent pairing of Williams and Saunders were up against older and more highly ranked pairs but they upped their game and with tremendous composure beat both higher seeded pairings in straight games to lift the U15 Girls doubles title. Another great achievement for both girls, and one of the major surprises of the championships.
Under 19's
The U19 event was played at a tremendously high standard throughout. Gwent's Hannah Killick, Alice Palmer, and Sam Gorrell competed very strongly with Killick picking up a runners up medal in the mixed doubles with Oliver Gwilt in a compelling final game of the day.
Under 13's
Day two promised more medals and they were duly delivered.
Gwent's Tom Whiteman started the day as favourite to pick up the boys singles at U13 level. Evan Williams and James Morris put in their strongest games of the year with Williams pushing 2nd seed Scott Oates from North Wales to the top of his game before losing out. Whiteman eased through the first few rounds and found himself up against Oates in the final. Oates had beaten Whiteman recently so this was to be a test of nerve. Whiteman showed incredible calmess and skill to overcome Oates in straight games to clinch his 6th title in his short badminton career thus far.
Whiteman then teamed up with Oates for the U13 boys doubles where they defeated the new pairing of Williams and Rory Xiao of Cardiff in an exciting final 21-10 21-19. Yet another title for Tom Whiteman, and a return to top form for Williams.
In the U13 mixed event, twins Evan Williams and Morgan Williams formed a new pair, the other Gwent pair being Saunders and Whiteman an established partnership and among the favourites. Both pairs came through their groups to meet in the semi finals where Saunders and Whiteman had too much experience and it was they who reached the final. After another epic encounter the Gwent pair lost out to Oates and Arrighi 17-21, 21-18, 24-22. So close and very very unlucky to lose out.
In the girls U13 section, it soon became evident that the doubles final would be a shoot out between the previous days U15 winners from Gwent (Williams and Saunders) against Katie Whiteman playing up an age range with partner Gean Sou Mo of Llantrisant. In an incredibly exciting match that had all the players reaching the heights of the game, Whiteman and Mo pulled off the shock of the weekend coming through with a 10-21, 25-23, 21-17. A 4th title of the weekend for Katie Whiteman and her 6th title in two years. Whiteman is fast proving that she is destined for the very top level.
Under 17's
In the U17 events Gwent was represented by Michael Kinnear, Sean Keohane and James Ellaway. Once again our players put in strong performances at the top of their game but this was tough company and the national championships and they missed out on the singles medals.
Over recent years Kinnear has been Gwent's top performer and he put his disappointment at missing out in the singles to use as motivation for his doubles.
Kinnear teamed up with Matthew Barrell in the U17 boys doubles and they clinched the title with a 23-21 20-22 21-17 victory over the previous days U15 doubles champions from North Wales.
Onto the final event of the championships The U17 mixed. How fitting it was that Gwent should have Kinnear, their most recognised player of recent years, capturing another title with established partner Jordan Hart of Pembroke after a string of dominant performances. The championships therefore ended as they had begun with Gwent's players at the fore in their most successful national championships to date.
The highlights flowed throughout each day from Katie Whiteman picking up an amazing four titles in two age ranges, Oliver Stansfield's U11 clean sweep including one title with cousin Elliot Simmonds.  Morgan Williams and Kelly Saunders winning the U15 doubles, and Saunders picking up the U15 girls singles. Tom Whiteman once again proving his quality delivering singles and doubles at U13, and standard-bearer Michael Kinnear rounding off the day taking his 16th and 17th national titles.
All of the Gwent players who took part and played with so much passion were a credit to their county and themselves. A truly stunning weekend.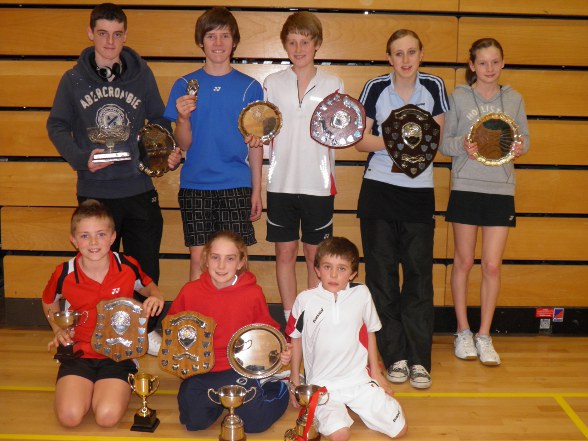 Pictured –left to right
Back: Michael Kinnear (Llanfrechfa), Evan Williams, Tom Whiteman (both Abergavenny), Kelly Saunders (Pontypool), Morgan Williams (Abergavenny)
Front: Oliver Stansfield, Katie Whiteman, Elliot Simmmonds (all Abergavenny)